You would like to celebrate your birthday, wedding, company outing or company anniversary and don't know how yet?

Charter our historic train and lend
Your celebration thus a very special touch!
---
You can put together the cars for your own personal special train. Historic wagons built between 1927 and 1954 with a seating capacity of around 400 seats are available.
All cars are presented in detail on the page "The train".

As an additional option, you can rent our very popular bistro wagon "27 230 Münster" as the gastronomic center of the train. This cart has a beer dispenser with cooling and refrigerators for drinks of all kinds. As a further option, you can also rent our "rolling dance barn" with the 4-axle conversion wagon "98 290 Münster" as a dance and bar car. This wagon also has a beer dispenser and refrigerators. The guest room has a music system as well as a small dance floor. Thus, nothing stands in the way of a wedding dance.
In our wagon "83 751 Essen" there is the possibility to offer a generous cake or cold/hot buffet for your guests even during the journey.

Of course, you can determine the route and the stops for your personal special train yourself. Apart from operational restrictions, we can travel with our historic train almost all railway lines in the Federal Republic of Germany. You tell us where you want to go, we take care of the rest. On request, we can also arrange a buffet on the train or a stop at an inn on the route.

As you can see, there are hardly any limits and we can meet almost all ideas.
The use of a steam locomotive naturally incurs higher costs than that of a diesel locomotive.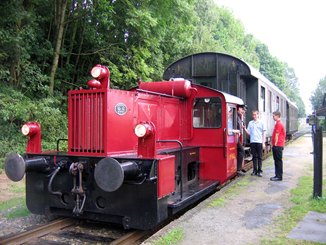 On August 19, 2005, our Köf 6642 came to special train honour .
She had to transport a short charter train from Lengerich to Ibbenbüren.
Here the train makes a short stop in Brochterbeck.

Photo.M.Kastel
When it comes to train locomotives, you have the choice. The steam locomotive 78 468 from 1923 is available . For smaller groups, the diesel locomotive V 36 412 from 1950, the diesel railcar VT 03 ET from 1926 or the Köf 6642 from 1960 are available.
We would be happy to provide you with a non-binding
offer for your personal special train.

---
Have we aroused your interest?
Write to us for a first
contact:

charterzuege (@) eisenbahn-tradition.de
---